Electrolytic cells
Electrolysis is a process in which chemical changes take place by the passage of electric current. The cells used to carry out electrolysis are electrolytic cells
Process of electrolysis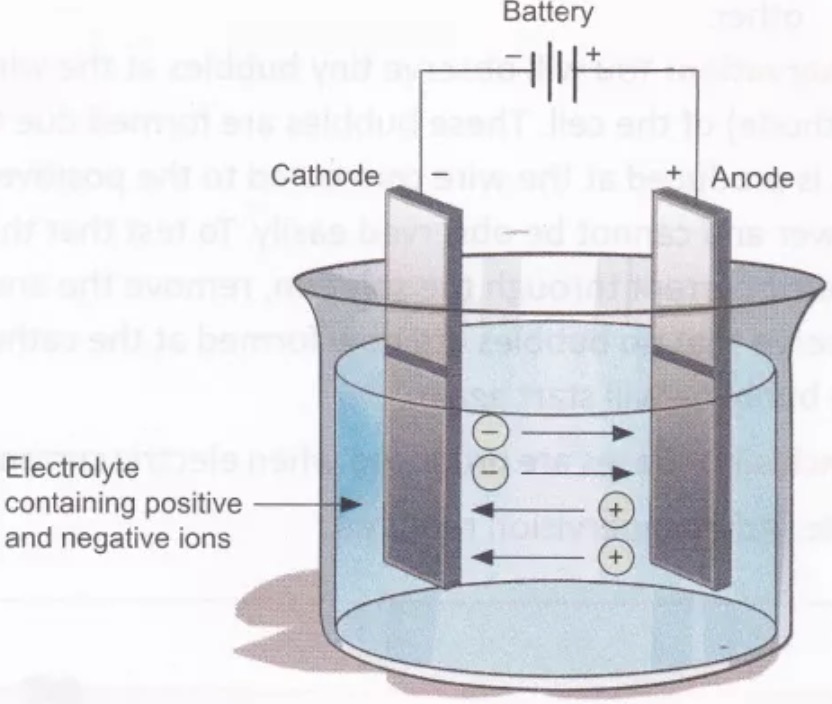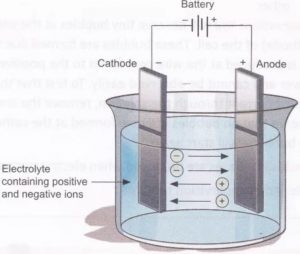 1) The process of electrolysis is carried out by taking the solution of an electrolyte in a suitable vessel. The vessel is called electrolytic tank.
2) It is made up of either glass or of a material which is a bad conductor of electricity.
3) Two metallic rods or plates are suspended in the electrolytic solution. These are connected to the terminal of a battery with the help of metallic wires.
4) These metallic rods or plates allow the passage of current and are called electrodes. The electrode connected to the positive terminal of the battery is called anode while the electrode connected to the negative terminal of the battery is called cathode.
When an electrolyte is dissolved in water, it splits up into negative and positive ions. The positively charged ions are called cations and negatively charged ions are called anions.
On passing electric current through the solution, the ions are attracted by the oppositely charged electrodes. As a result, cations move towards cathode while anions move towards anode. This movement of ions in solution is known as electrolytic or ionic conduction and constitutes flow of current through the solution.
The anions on reaching the anode give up their electrons. On the other hand, cations take up the electrons from the cathode Therefore, cations and anions get discharged at the respective electrodes and are converted to neutral particles. This is known as primary change. The primary products may be collected as such or they undergo further changes to form molecules or compounds. These are called secondary products and the change is known as secondary change.
According to ionic theory, the electrolytes are present as ions in solution and the function of electricity is only to direct these ions to their respective electrodes. The electrolytes can be electrolysed only in the dissolved or molten state.
Simplest electrolytic cell consists of two copper rods dipping in an aqueous solution of copper sulphate. When electric current (DC voltage) is applied to the two electrodes, then Cu2+ ions discharge at the cathode (negatively charged electrode) and the following reaction takes place:
Cu2+ + (aq) + 2e‾ ——–> Cu(s)
(at cathode)
Copper metal is deposited at the cathode.
At the anode, copper is converted to Cu2+ ions by the reaction:
Cu(s) ——–> Cu2+(aq) + 2e¯
In terms of oxidation and reduction, copper is oxidised at anode while it is reduced at cathode.
Many other metals such as Na, Mg, Al, etc. are also produced on a large scale by electrochemical reduction of their respective cations where no suitable chemical reducing agents are available for the reduction.
Faraday's Laws of Electrolysis
1) Faraday's first law of electrolysis
The amount of any substance deposited or liberated at any electrode is directly proportion to the quantity of electricity passed through the electrolytic solution. The amount of any sub stance obtained gives the amount of chemical reaction which occurs at any electrode during electrolysis.
Thus, if w gram of the substance is deposited on passing Q coulombs of electricity, then
w ∝ Q
w= ZQ
where Z in a constant of proportionality and is called electrochemical equivalent. If a current of I amperes is passed for t seconds, then
Q=I × t
w= Z × Q =Z × I × t
Q= 1 coulomb
I=1 ampere and t = 1 second, then
w= Z × 1 × 1
w= Z
Electrochemical equivalent of a substance may be defined as the mass of the substance deposited when a current of one ampere is passed for one second, i.e. a quantity of electricity equal to one coulomb is passed.
2) Faraday's second law of electrolysis
It states that when same quantity of electricity is passed through different electrolytic solutions connected in series, the weights of the substances produced at the electrodes are directly proportional to their chemical equivalent weights.
For example: When same current is passed through two electrolytic solutions, containing copper sulphate (CuSO4) and silver nitrate (AgNO3) connected in series, the weights of copper and silver deposited are :
According to Faraday's law, the amount of chemical change occurred i.e. the moles of substances deposited or liberated is proportional to the number of moles of electrons exchanged during the oxidation-reduction reactions that occur.
By knowing the amount of electricity passed, we can easily calculate the number of moles of products formed from the appropriate electrode reaction. From the moles of the products formed, we can calculate the masses their volumes if they are gases.
During the passage of electric current through molten NaCl,  sodium gets deposited at cathode and chlorine is liberated at anode.
NaCl ———-> Na + ½Cl2
During electrolysis, sodium ions move towards cathode, accept electrons and get deposited as:
Na+ (aq) +e¯ ——–> Na(s)
The passage of one electron produces one sodium atom. The passage of 1 mol of electrons produce 1 mol of sodium (or 23 g).
Similarly, at anode, chloride ions give up electrons and produce Cl atoms as:
Cl‾ – e¯ ———> ½ Cl2(g)
2 Cl‾ – 2e¯ ———> Cl2(g)
2 mol of electrons produce 1 mol of Cl2 or 1 mol of electrons produce 1/2 mol of Cl (35.5 g)
Charge on an electron = 1.602 x 10-19 C
Now 1 mole of electrons= 6.022 x 1023 electrons
Charge on 1 mole of electrons = 6.022 x 1023 × 1.602 x 10-19 C
The charge on one mole of electrons is called 1 Faraday, F.
Thus 1F = 96485 C or approximately 96500 C.
Thus, charge on n mol of electrons will be equal to
Q= nF
Now, the production of 1 mol of sodium or 23.0 g by reduction of sodium ions require 1 mol of electrons.
Therefore, amount of charge required,
Q= nF = 1 × 96500 C = 96500 C
Similarly, 1 mol of Cl2 is obtained by 2 mol of electrons or 2 × 96500 C of charge during electrolysis of NaCl. Similarly, in the reaction
Ag+ + e‾ ——–> Ag(s) 
One mole of electrons is required for the reduction of 1 mol of silver ions. Therefore, the quantity of electricity required for reduction of 1 mol of Ag+ ions is 96500 C or 1 Faraday.
Now 1 mole of copper will be produced by 2 mol of electrons or 2 × 96500 C of charge:
Cu2+ + 2e¯ —–> Cu
The amount of substance deposited or evolved can be calculated. For example: aluminium gets deposited as:
Al3+ +3 e¯ —–> Al
Thus, 1 mol of Al will be deposited by 3 mol of electrons or 3 Faraday of electricity.
When the same quantity of electricity is passed through different electrolyte solutions, connected in series, the weights of different substances produced at the electrodes can be calculated from the mole ratios of their electrode reactions.