Pronouns
Pronouns are words that can be used to take the place of a noun.
Examples: He, she , It , I , We, You, We, They, Me, Him, Her, Us, Them, Mine, your, his, her, my, our, their etc.
| | |
| --- | --- |
| He | |
| She |                         |
| It | |
| They |                                   |
| We | |
| You |                                     |
| I | |
| Our |                               |
| His | |
| Her |                                         |
| Your | |
| Them |                                         |
| Their | |
Types of Pronoun
(1) Personal pronouns
(2) Possessive pronouns
(3) Reflexive pronouns
(4) Reciprocal pronouns
(5) Relative pronouns
(6) Demonstrative pronouns
(7) Interrogative pronouns
(8) Indefinite pronouns
(1) Personal Pronouns
Personal pronouns are those that refer to people, places, things, and ideas directly.
Personal pronouns can be divided up into two major categories.
(1) Subject pronouns : I, we, you, he, she, it, they
(2) Object pronouns : me, us, you, him, her, it, them
A person pronoun describes a person or a thing in following ways.
1st Person: (the person who speaks) e.g. I, we, me, us
2nd Person: (the person who is spoken to) e.g. you
3rd Person: (a person or a thing which is spoken about). e.g. she, he, they, it, her, him, them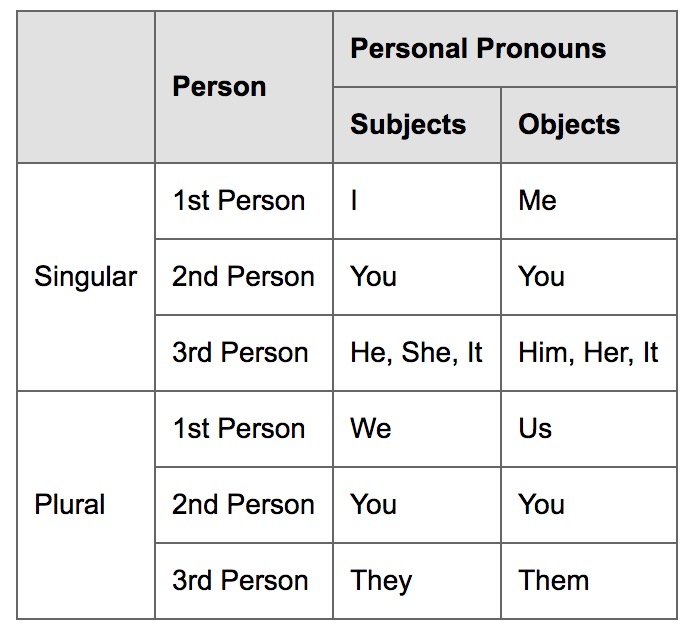 Examples of Personal Pronouns
He wants to buy a new cycle.
She is very beautiful.
It is very hot today.
You are my best friend.
They are going to a market.
We will purchase a new dress today.
Her name is Mary.
Tina gave me a letter.
Rita and Tina will go with us Today.
Jerry And Tom want to Play with them.
(2) Possessive Pronouns
A possessive pronoun is a pronoun that is used to indicate possession or ownership.
Example:  His, yours, hers, mine, ours, theirs,  etc.
That is his cycle.
Someone asked, "Is that watch yours?"
This notebook is mine.
We bought this game together, so it is ours.
The bottle is theirs.
The Car is hers.
(3) Reflexive Pronouns
Reflexive pronouns are words ending in -self or -selves that are used when the subject and the object of a sentence are the same.
They are used after certain verbs when the subject and verb are the same person.
Example: myself, yourself, himself, herself, oneself, itself, ourselves, yourselves, and themselves.
| | |
| --- | --- |
| Subject Pronoun | Reflexive Pronoun |
| I | Myself |
| you | Yourself |
| He | Himself |
| She | Herself |
| It | Itself |
| One | Oneself |
| We | Ourself  |
| You | Yourself |
| They | Themselves |
I brush my teeth and stare at myself in the mirror.
He bought himself a new dress.
Take care of yourself.
She didn't want to talk about herself anyway.
The wound healed itself quickly.
Alice and Doris collected the stickers themselves.
My sister and I looked at ourself in the mirror.
It is not good to think only of oneself.
(4) Reciprocal Pronouns
A reciprocal pronoun is used when two or more nouns (subjects) are engaged in same thing or reciprocating to each other or one another in some action.
There are only two reciprocal pronouns.
(1) Each other
(2) One another
Rita and Sita looked at each other with surprise.
Mary and Jai kissed each other at the end of the ceremony.
They hit their heads with each other.
The kids spent the afternoon kicking the ball to one another.
The brother and the sister were made to smile at each other.
It is a tradition that people give gifts to one another.
Tim and Lina love each other.
The players were blaming one another for their loss.
The winners congratulated one another after the results were announced.
The students checked their answers with one another.
(5) Relative Pronouns
A relative pronoun is used to connect a clause or phrase to a noun or pronoun.
The clause provides describing information about the noun.
Example: Who, whom, whose, that, which.
Who, whom, and whose relate to people.
Which is used with objects. 
That is preferably used only with objects, but you will see it used with people.
The girl who is studying is very intelligent.
My sister, who is at home, dances very well.
The driver who ran the stop sign was careless.
I have a friend whose dog is scary.
The friend whom you saw yesterday wants to meet you again.
The tree whose branches shade my kitchen window is an oak.
The cousin whom we met at the family reunion is coming to visit.
The thief who stole the bicycle has been caught.
My grandfather whom I loved is dead.
John who sings well is popular among the girls.
We bought some apples from which we extracted the juice.
This is the boy that I told you of.
I know the house that he lives in.
I have lost the envelope which you gave me.
Thank you very much for your e-mail which was very interesting.
The children who shouted in the street are not from our school.
Sam was not sure whom he could trust with her secret.
(6) Demonstrative Pronouns
A demonstrative pronoun is a pronoun that is used to point to something specific within a sentence.
Example: that, this, those, these, none, neither
A demonstrative pronoun represents a thing or things:
(1) near in distance or time (this, these)
(2) far in distance or time (that, those)
This is my favourite dress.
This was my mother's shoes.
Is this pencil yours or mine?
I can that he is happy.
That picture is really very beautiful.
Do you know that he told the truth?
These shoes smell disgusting.
Those animals are very scary.
Your cookies are much better than those over there.
Those shops are having a sale on Saturday.
These are nice shoes, but they look uncomfortable.
(7) Interrogative Pronouns
An interrogative pronoun is used to ask questions.
There are five main interrogative pronouns: who, whom, what, which ,whose, what is used to ask about things or animals.
What is your favourite colour?
What do you want?
Whose pen is this?
Who do you think took the money?
Who came here in the morning?
Whom do you prefer to vote for?
Whom do you live with?
Whose phone is that?
Whose car is that?
Who threw the football?
(8) Indefinite Pronouns
Indefinite pronouns are pronouns that are used to refer to people or things without mentioning who or what exactly they are.
Singular indefinite pronouns take singular verbs or singular personal pronoun.
Plural indefinite pronouns take plural verbs or plural personal pronoun.
Example: someone, something, Another, anyone, anybody, each, either, enough, everybody, neither, nobody, one, no-one, both, few.
Now that everybody is here , we can start.
I am sure, i have forgotten something.
Can anyone answer this question?
It was really dark and i could not see anything.
We can go anywhere we want to.
Has everybody done their home work.
The map says there is good resort somewhere near here.
Does anybody have the time?