Dinitrogen and Ammonia – The p-Block Elements – Class 12
Dinitrogen

1) It is the first member of group 15 of the periodic table. 
2) It has the electronic configuration 1s2 2s2 2p3 and therefore, has five electrons in its valence shell.
3) In the molecular form it exists as a diatomic molecule (N2) having triple bond between nitrogen atoms (NΞN). Therefore, it is also referred to as dinitrogen.
Preparation of Dinitrogen




In the laboratory dinitrogen is prepared by heating an aqueous solution containing an equivalent amount of ammonium chloride and sodium nitrate.
NH4Cl(aq) + NaNO3 (aq) ——-> N2 (g) + 2H2O(l) + NaCl(aq)
It can be prepared by :
1) Thermal decomposition of ammonium dichromate.
(NH4)2 Cr2O7 ——> Cr2O3 + N2 + 4H2O
2) By the action of ammonia with cupric oxide or bleaching powder

2NH3 +3CuO –> 3 Cu + N2 + 3H2O
2NH3 +3CaOCl2 –> 3 CaCl2 + N2 + 3H2O
3) Very pure nitrogen can be obtained by the thermal decomposition of sodium or barium azide.
Ba(N3)2 —–> Ba + 3 N2 

Commercial Isolation of Dinitrogen from Air
Commercially dinitrogen is prepared by the liquefaction and fractional distillation of air.  When the liquid air is allowed to boil, dinitrogen with lesser boiling point gets distilled first leaving behind dioxygen.
Properties of Dinitrogen

Physical Properties of Dinitrogen
1) Dinitrogen is a colourless, odourless and tasteless gas.
2) It has two stable isotopes 14N and 15N.
3) It is a non-toxic gas.
4) It is slightly lighter than air and its vapour density is 14.
5) It has very low solubility in water. 
6) Its melting and boiling points are low; 63.2 K and 77.2 K respectively.
Chemical Properties of Dinitrogen
Dinitrogen is chemically unreactive at room temperature. It is neither combustible nor it supports combustion. The low reactivity of nitrogen is due to very small size of the molecule and high bond dissociation enthalpy of the molecule. However, reactivity increases rapidly with the rise in temperature. At higher temperature dinitrogen combines with some metals to form predominantly ionic nitrides and with non-metals to form covalent nitrides.
1) Action with litmus: Dinitrogen is neutral towards litmus because it has no acțion on blue or red litmus.
2) Action with metals: It combines with a number of active metals on strong heating to form their respective nitrides. For example,
6Li + N2 ——-> 2Li3N
3Mg + N2 ——–> Mg3N2
Ca + N2 —-> Ca3N2
2Al + N2 –> 2 AlN
3) Combination with non-metals
Dinitrogen combines with non-metals like dioxygen and dihydrogen.
(i) Combination with dihydrogen: Dinitrogen reacts with dihydrogen about 700K under a pressure of 200 atm in the presence of iron as catalyst (Haber process). A small amount of molybdenum is also used as a promotor.
N2 + 3 H2 ——> 2 NH3
(ii) Combination with dioxygen: Dinitrogen combines with dioxygen during lightning or at high temperature of about 2000 K and form nitric oxide.
N2 + O2 ——> 2 NO
Nitric oxide is a colourless gas but is very unstable. It immediately reacts with more of oxygen to form nitrogen dioxide.
2NO + O2 → 2NO2
4) Combination with compounds: Dinitrogen also combines with certain compounds on strong heating. For example,

a) With calcium carbide
CaCl2 + N2 ——-> CaCN2 + C 
Calcium carbide       Calcium cyanamide
b) With alumina in the presence of carbon
Al2O3 + N2 + 3C —–> 2 AlN + 3CO
Aluminium oxide            Aluminium nitride
Both these compounds are hydrolysed on boiling with water to give ammonia.
CaCN2 + 3H2O –> CaCO3  + 2NH3
AlN + 3 H2O –> Al(OH)3 + NH3 
Therefore, calcium cyanamide is used as a fertilizer under the name nitrolim (CACN2 + C).
Uses of Dinitrogen
(i) Dinitrogen is used in the manufacture of compounds like ammonia, nitric acid, calcium cyanamide, etc.
(ii) It is used in providing inert atmosphere in iron and steel industries.
(iii) Liquid nitrogen is used as refrigerant to preserve biological specimens, in freezing food stuffs and also in cryosurgery.
(iv) It is used in gas-filled thermometers used for measuring high temperatures.
Ammonia

Ammonia is present in small quantities in air and soil where it is formed by the decay of nitrogenous organic matter e.g., urea.
NH2CONH2 + 2H2O —–> (NH4)2CO3 ⇔ 2NH3 + CO2 + H2O
Urea
Laboratory Preparation of Ammonia
Ammonia is prepared in the laboratory by heating ammonium salt: NH4Cl or (NH4)2SO4 with a strong alkali like NaOH.
(NH4)2SO4 + 2NaOH —->  2NH3 + 2H2O  + Na2SO4
NH4Cl +NaOH ——> NH3 + H2O + NaCl 
1) It can also be prepared by heating ammonium chloride with slaked lime
2NH4Cl + Ca(OH)2 —–> CaCl2 + 2NH3 + 2H2O
2) It can also be prepared by the hydrolysis of magnesium nitride.
Mg3N2 + 6H2O →3Mg(OH)2 + 2NH3
Ammonia can be dried by passing over quicklime (CaO). However, it cannot be dried with dehydrating agents such as conc. H2SO4. P2O5 and anhydrous CaCl2 because ammonia reacts with these compounds.
Manufacturing of Ammonia
Ammonia can be manufactured by Haber's process which involves the reaction :
N2 (g) + 3H2 (g) ⇔ 2NH3 (g)
The favourable conditions for high yield of ammonia can be understood by applying Le Chatelier's principle.
(i) Low temperature: Since the forward reaction is exothermic, therefore, low temperature will favour the formation of ammonia. However, an optimum temperature of about 700 K is necessary.
(ii) High pressure: High pressure of the order of 200 atmospheres or 200 x 105 Pa is required to favour the forward reaction.
(iii) Presence of catalyst: The use of catalyst such as iron oxide containing a small amounts of molybdenum or potassium oxide (K2O) and aluminium oxide (Al203) as promoter, increases the rate of attainment of equilibrium of ammonia.
Details of the process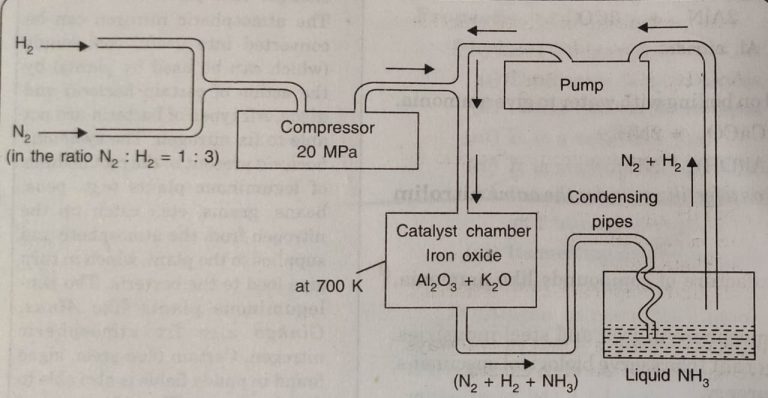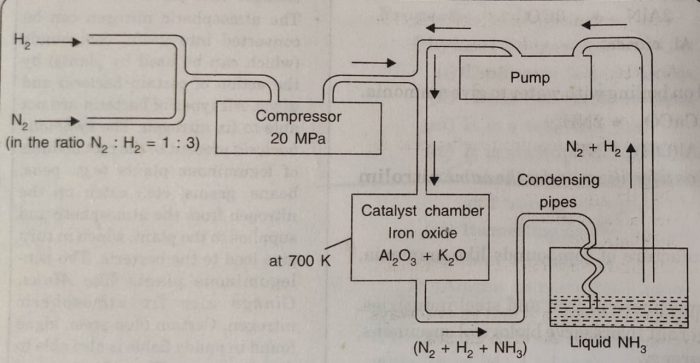 1) In this method a mixture of N2 and H2 in the molar ratio of 1:3 is compressed to about 200 atmosphere pressure.
2) The compressed gases are then cooled and passed through soda lime tower to free them from moisture and carbon dioxide.
3) Then these are fed into catalyst chamber packed with iron oxide with small amount of K20 and Al2O3 or molybdenum.
4) The chamber is heated electrically to a temperature of 700 K when the two gases combine to form ammonia.
5) The reaction being exothermic, the heat evolved maintains the desired temperature and further electrical heating is not required.
6) The gases which escape from the chamber contain about 15-20% ammonia and the remaining are unreacted N2 and H2.
7) These are passed through condensing pipes where ammonia gets liquefied and is collected in the receiver.
8) The unreacted gases are pumped back to the compression pump where they are mixed with fresh gaseous mixture.
Structure of Ammonia

 
1) Ammonia is expected to have a tetrahedral geometry because the central nitrogen atom involves sp3 hybridisation. 
2) It has one position occupied by a lone pair. The lone pair distorts its geometry and the molecule has pyramidal geometry with nitrogen atom at the apex. 
3) The N-H bond length is 101.7 pm and HNH bond angle is 107.8°.
Properties of Ammonia
Physical properties of Ammonia
1)  Ammonia is a colourless gas with a characteristic pungent smell called ammoniacal smell.
2) It is lighter than air.
3)  It is highly soluble in water and its solution is basic in nature due to the formation of OH¯ ions.
NH3 (g) + H2O (l) ⇔ NH4+ (aq) + OH¯
4) Ammonia can be easily liquefied under pressure. Liquid ammonia has b.p. 239.7 K and f.p. 198.4 K.
Chemical properties of Ammonia
1) Basic nature: Ammonia gas is highly soluble in water. Its aqueous solution turns red litmus blue indicating its weakly basic character. The basic character of ammonia is due to the formation of OH ions in aqueous solution.
NH3 (aq) + H2O (aq) ⇔ NH4+ (aq) + OH¯ (aq)
Being basic ammonia forms salts with both weak and strong acids such as NH4Cl , (NH4)2SO4 ,(NH4)2CO3 etc.
NH3 (aq) + HCl (aq) —-> 2NH4Cl (s)
2 NH3 (aq) + H2SO4 —–> (NH4)2SO4 (s) 
2) Tendency to form complexes. Ammonia acts as a Lewis base due to the presence of lone pair of electrons on the nitrogen atom. Therefore, it can form coordinate bond with a number of transition metal cations forming complex compounds. 
For example,
Ag+ (aq) + 2NH3(aq) ——-> [Ag(NH3)2]+
Cu2+(aq) + 4 NH3 (aq) ——> [Cu (NH3)4]2+ (aq)
 
Cd2+ + 4NH3 ——–> [ Cd(NH3)4]2+Cl (aq) 

Since ammonia forms complexes, the white precipitate of silver chloride dissolves in excess of ammonium hydroxide to form a soluble complex.
AgCl + 2NH4OH ⇔ [Ag(NH3)2]Cl + + 2H20
White ppt.
Similarly, copper sulphate dissolves in excess of ammonium hydroxide to form deep blue coloured complex.
CuSO4 + 4NH4OH ⇔ [Cu(NH3)4]SO4 + 4H2O
                                     Tetraammine copper (II) sulphate (Blue)
3. Action with halogens.
(i) Chlorine reacts with ammonia in two ways depending upon whether ammonia is in excess or chlorine is in excess.
Excess NH3
8NH3+ 3Cl2 ——-> 6NHCl4 + N2
Excess Cl2
NH3 + 3Cl2 ——> NCl3 + 3HCl

Excess of ammonia
8NH3+ Br2 ——-> 2NHBr4 + 3N2
Excess Br2
NH3 + 3Br2 ——> NBr3 + 3HCl

(ii) Iodine reacts with liquid ammonia to form a dark brown complex.

2NH3 + 3 I2 —> NH3NI3 + 3
 Nitrogen tri-iodide ammoniate
The complex is very explosive when dry. It explodes violently when rubbed against a hard surface as follows :
8NH3NI3 ——->  5N2 + 9I2 + 6NH4I

4) Oxidation: Ammonia is oxidised to dinitrogen with oxidising agents like CuO, NaClO, CaOCl2, etc. 
For example: When ammonia is passed over heated Copper oxide, it gets oxidised to dinitrogen.
3CuO + 2NH3 —> 3 Cu + N2 + 3 H2O
When vapours of NH3 and O2 are passed over red hot platinum gauze at 1075 K, it is oxidised to nitric oxide.
4NH3 + 5 O2 ——-> 4 NO + 6H2O
This reaction forms the basis of Ostwarld's process for the manufacture of nitric acid.
5) Combustion: Ammonia is neither combustible nor supporter of combustion.However, it burns in the presence of oxygen to form dinitrogen and water.
4 NH3 + 3O2 –> 2 N2 + 6H2O
6) Formation of amides: When ammonia is passed over heated sodium or potassium at 575 K. it forms amides with the liberation of dihydrogen.
2Na + 2 NH3 ——-> 2 NaNH2 + H2
7) Precipitation of heavy metal ions from the aqueous solution of their salts
Heavy metal ions such as Fe3+, Cr3+, Al3+, etc. are precipitated from their aqueous salt solutions as hydroxides with ammonia.
FeCl3(aq) + 3 NH4OH ——–> Fe(OH)3 (s) or Fe2O3.xH2O(s)+3NH4Cl (aq)
Brown ppt.
AlCl3 (aq) + 3NH4OH(aq) ——> Al(OH)3 (s) + 3NH4Cl (aq)
CrCl3 (aq) + 3NH4OH(aq) ——–>  Cr(OH)3(s) + 3NH4Cl (aq)
  Green ppt.
ZnSO4 (aq) + 2NH4OH(aq) ——> Zn(OH)2(s) + (NH4)2SO4(aq)
White ppt.
Uses of Ammonia

(i) It is used in the manufacture of nitric acid and sodium carbonate.
(ii) Liquid ammonia is used as a refrigerant.
(iii) It is used in the manufacture of rayon.
(iv) It is commonly used for preparing various nitrogenous fertilizers such as ammonium nitrate, ammonium sulphate, ammonium phosphate and urea.
(v) It is an important reagent and is used as a solvent in the laboratory.