Question 1 What is meant by lateral shift?
Question 2 The refractive index of dense flint glass is 1.65 and for alcohol it is 1.36,with respect to air. What is the refractive index of the dense flint glass with respect to alcohol?
Question 3 Draw a diagram showing refraction of light through a glass slab?
Refraction Through a Glass Slab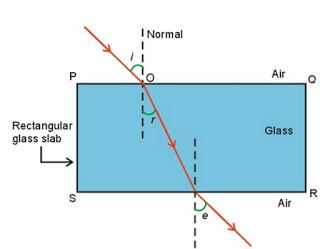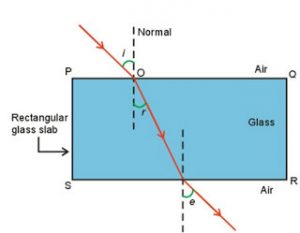 n21 = Sin i / Sin r
n12 =  Sin r / Sin i
Sin i / sin r = sin e / Sin r
i=e
∠i = ∠e
Incident ray and emergent ray are parallel to each other. The perpendicular distance between the original path of incident ray and emergent ray coming out of glass slab is called Lateral shift(d).
d is directly proportional to thickness of glass slab, angle of incidence, n of glass slab.
d is inversely proportional to incident light.