Question 1 What is fission?
Question 2 Describe asexual reproduction in amoeba?
Question 3 What is multiple fission?
Question 4 Name few organism which show binary fission?
Fission
Many single celled organism like protozoa and bacteria just split into two identical halves during cell division,leading to the creation of new organism.
For Ex:Amoeba,paramecium, leishmania.
(a) Binary Fission
The parent organism split or divide to form 2 new organism.
Amoeba: When the amoeba cell has reached its maximum size of growth,then first the nucleus of amoeba lengthens and divides into two parts.After that cytoplasm of amoeba divides into two parts,one part around each nucleus.In this way,one parent amoeba divides to form smaller amoebae.The splitting of parent cell during fission can take place in any plane.


Paramecium: A fully grown paramecium divides into two parts to form smaller paramecia.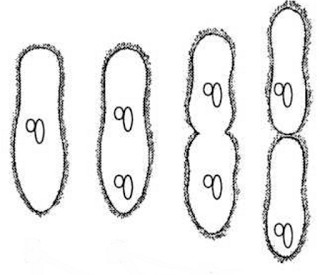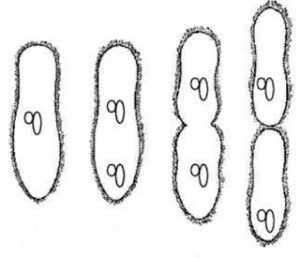 Leishmania(Parasite): It causes disease called kala-azar.In leishmania,splitting of parent cell during fission take place in a definite plane(longitudinally) with respect to flagellum at its ends.
(b) Multiple Fission
The parent organism split to produce many new organism at same time For Ex:Malarial Parasite (Plasmodium)