Ozone Depletion
The global environment is basically formed by three parts-Atmosphere, hydrosphere and lithosphere.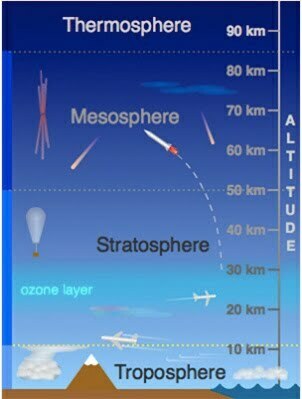 The atmosphere extends over about 600 km from the earth's surface. Most of it is formed of air (a mixture of gases having suspended liquids and solids) covering the earth from all sides. Four main layers have been identified in the atmosphere.

From the surface of the earth upwards these four layers are troposphere, stratosphere, mesosphere and thermosphere.

(1) Ozone is a form of oxygen.

(2) A molecule of ozone contains three oxygen atoms (O3).

(3) In the stratosphere, ozone is being photo dissociated and generated by the absorption of harmful, short wavelength ultraviolet
(UV) radiations coming from the sun:
O3 ⇔ O2 +[O]

(4) The two reactions (photodissociation of O3 and its generation) are in equilibrium thereby maintaining steady concentration of ozone in the stratosphere some 18-50 km above sea level.

(5) Ozone layer is commonly called ozone blanket. It comprises high concentration of ozone about 18 km to 50 km above in the stratosphere layer of atmosphere.

(6) The ozone dynamics (i.e., photodissociation of O3

and its generation) dissipates

the energy of UV radiations as heat. In this way, ozone layer in the stratosphere acts as a shield to protect all types of life from harmful effects of UV radiations. Absorption of UV radiations by ozone blanket is proportional to its thickness.

The thinning of ozone layer is commonly called ozone depletion. Ozone is being depleted by air pollutants. Chlorofluorocarbons (CFCs) are air pollutants that are mainly responsible for the depletion of ozone layer in the stratosphere. Besides, methane (CH4) and oxides of nitrogen (NOx) also cause destruction of ozone.

Ozone hole: Decline in thickness of ozone layer over a restricted area is called ozone hole. 
Ozone hole was first discovered. Over Antarctica in 1985. Amount of atmospheric ozone is 
measured by Dobson spectrometer and is expressed in Dobson units (DU).

Chlorofluorocarbons (CFCS) are synthetic, harmful chemicals which are widely used in refrigerators and air conditioners as coolants; in fire extinguishers, in aerosol sprayers and as propellants. Once released in the air, these harmful chemicals produce 'active chlorine' (Cl and ClO radicals) in the presence of UV radiations. These radicals, through chain reactions, then destroy the ozone by converting it into oxygen. Due to this, the ozone layer in the upper atmosphere (i.e., stratosphere) becomes thinner.
Effects of Ozone Depletion
The thinning of ozone layer allows more ultraviolet (UV) radiations to pass through it which then strike the earth. These cause following harmful effects on man and animals :-
(1) Ultra violet radiations cause skin cancer.
(2) These cause damage to eyes and also can cause increased incidence of cataract disease in eyes.
(3) These cause damage to immune system by lowering the body's resistance to diseases.