Food Chains
Food we eat acts as a fuel to provide us energy to do work. In any given ecosystem, all living organisms are linked in a systematic chain with respect to their mode of manufacturing food/feeding habits.

The interactions among various components of the environment involves flow of energy from one component of the ecosystem to other.

(a) In a grassland ecosystem, all green plants (herbs, shrubs and trees) are producers. These autotrophs manufacture their food by utilising the radiant energy of the sun by the process of photosynthesis. During photosynthesis, producers capture solar energy and convert it into chemical energy.

(b) These autotrophs (producers) are eaten up by plant eaters, i.e. herbivores (primary consumers).

(c) The herbivores are subsequently eaten up by flesh eating animals, i.e., carnivores (secondary consumers)

(d) The carnivores may be eaten up by larger carnivores (tertiary consumers).

All organisms are inter-linked in a definite sequence and involve transfer of energy from producers onward to the last link in the chain. This sequential interlinking of organisms involving transfer of food energy from the producers, through a series of organisms with repeated eating and being eaten is called the food chain.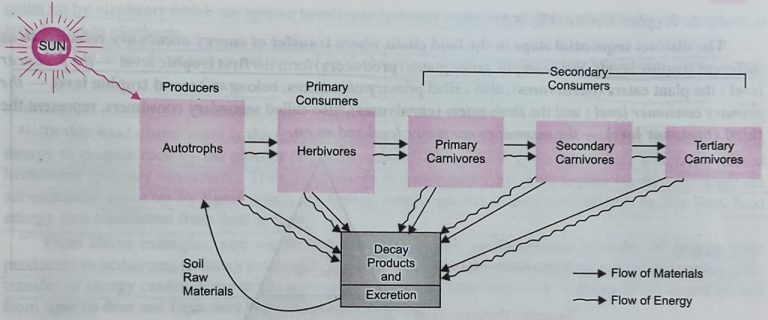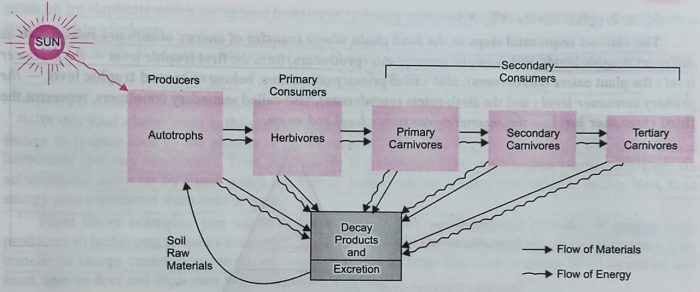 Length of Food Chains



In ecosystems, different food chains may have two, three, four or maximum five trophic levels. Accordingly, a food chain may end at the

(i) herbivore (primary consumer) level,

(ii) primary carnivore (secondary consumer) level,

(iii) secondary carnivore (tertiary consumer) level or

(iv) tertiary carnivore (quaternary consumer) level.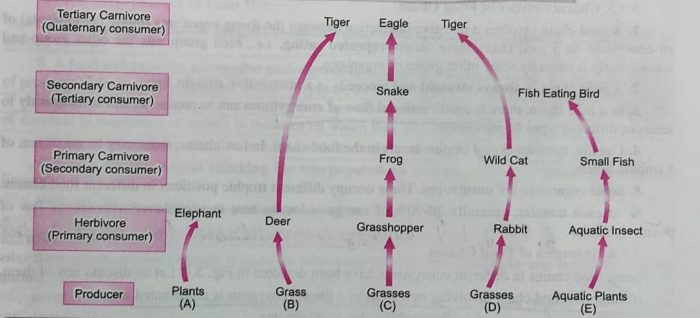 Trophic Levels 
The distinct sequential steps in the food chain where transfer of energy occurs are referred to as different trophic levels.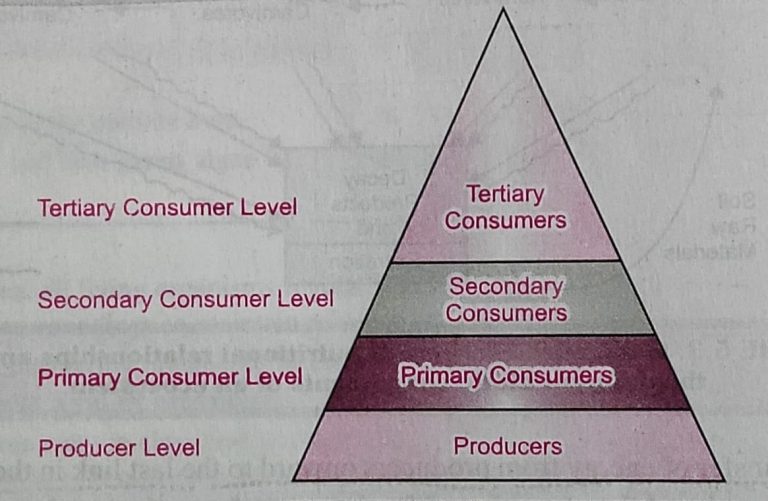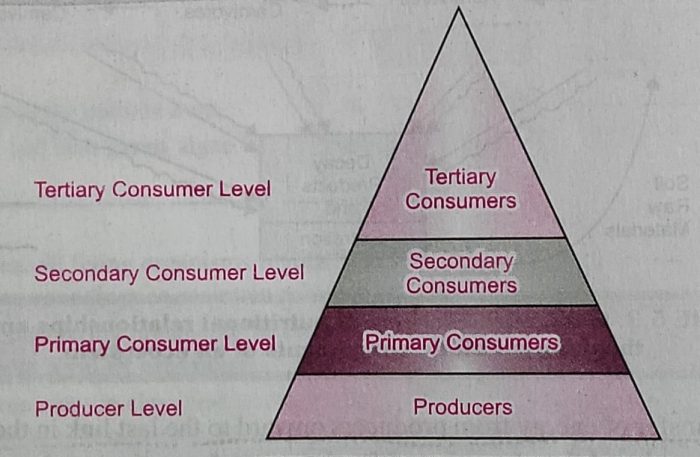 (a) Green plants (producers) form the first trophic level-the producer level- the producer level.
(b) the plant eaters (herbivores), also called primary consumers, belong to second trophic level-primary consumer level.
(c) and the flesh eaters (carnivores), also called secondary consumers, represent the third consumer level- the secondary consumer level and so on.
The quantum of available energy in a food chain successively gets decreased at each trophic level as a result of waste of energy as heat.
Characteristics of Food Chain
(1) A food chain involves a nutritive interaction between the living organisms (biotic components) of an ecosystem. In a food chain, there occurs repeated eating, i.e., each group eats the other group and subsequently is eaten by some other group of organisms.
(2) A food chain is always straight and proceeds in a progressive straight line.
(3) In a food chain, there is unidirectional flow of energy from sun to producers and subsequently to series of different types of consumers.
(4) Usually, there are 3 or 4 trophic levels in the food chain. In few chains, there may be maximum of 5 trophic levels.
(5) Some organisms are omnivores. These occupy different trophic positions in different food chains.
Examples of Food Chains
(1) Simplest food chain involving two-steps in a forest ecosystem is represented as :
       Plants    ————>    Elephants
           (Producers)                  (Herbivores)

In this food chain, plants are the starting point of this food chain which are termed producers. These use solar radiations (sunlight) to prepare their food by the process of photosynthesis. The plants are then eaten up by elephants which are termed herbivores (primary consumers). Thus, food energy from plants is transferred to elephants.
(2) Food chain in a forest ecosystem involving three-steps:
Grass  ———–>Deer  ——> Tiger
(Producer)      (Herbivore)     (Carnivore)
In this food chain grass is the starting point of food chain and is termed producer. It fixes sunlight energy to prepare food by the process of photosynthesis. The grass is eaten up by deer which are termed herbivores (primary consumers). Thus, food energy is transferred from grass to deer (herbivore). Deer are subsequently eaten up by tigers which are termed carnivores (secondary consumers). In this way, food energy gets transferred from deer to tiger.
There occurs unidirectional transfer of energy from producers to herbivores (primary consumer) and from herbivores to carnivores (secondary consumer). This transfer of energy cannot occur in the reverse direction, i.e. from elephants to plants (First example) and from tiger to deer and from deer to grass (second example).
Food web



Food web is a network of food chains which become interconnected at various trophic levels so as to form a number of feeding connections amongst different organisms of a biotic community.
Food chains do not operate in isolation. It is so because in natural environment, each organism is generally eaten by two or more kinds of organisms which, in turn, are eaten by several other organisms. Thus, instead of straight line food chain, the relationship between organisms forms a sort of interlocking pattern called a food web.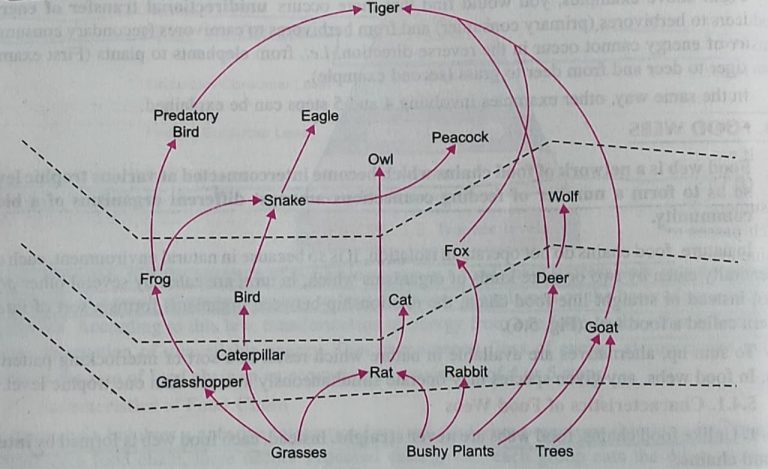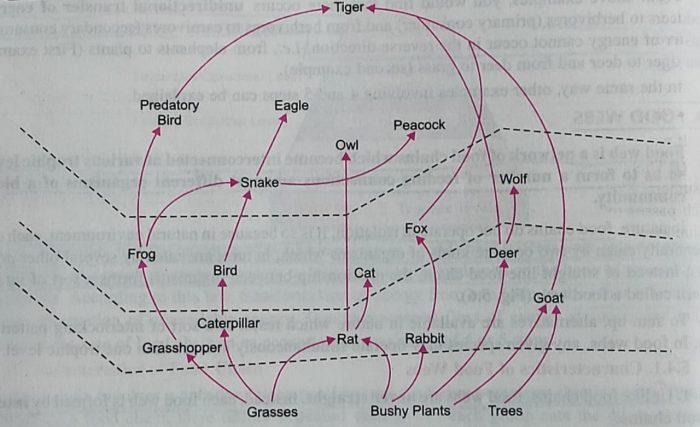 Characteristics of Food Webs



(1) Unlike food chains, food webs are never straight. Instead, each food web is formed by interlinking of food chains.
(2) A food web provides alternative pathways of food availability, For example, if a particular species of producer iş destroyed by a disease in the ecosystem, the herbivores of that area can feed on other species of producers. Similarly, secondary consumers (e.g., predatory birds) may feed on rats or mice in the event of decrease in population of rabbits in that area on which they also commonly feed.
(3) Greater alternatives available in a food web make the ecosystem more stable.
(4) Food webs also help in checking the over populations of highly fecundive species of plants and animals.
(5) Food webs also help in ecosystem development.
Flow(transfer) of Energy in an Ecosytem
Each organism needs energy to carry on vital activities, and for building up and repairing the body tissues.
The ultimate source of entire energy, used by living organisms, is the sun.
(1) In a community, each food chain, in fact, represents stepwise transfer of food (energy).
(2) Of the total solar radiations falling on the earth, only about 1% are captured by green plants in a terrestrial ecosystem and converted into food energy by photosynthesis. This energy is stored as chemical energy of food. The plants utilise part of this stored energy for their metabolic activities a such as respiration, growth etc. Some of the energy is not utilised and is released in the environment as unusable heat energy.
(3) When green plants are eaten by herbivores (primary consumers), a great deal of energy is lost as heat to the environment in accordance with the second law of thermodynamics. Some amount of energy is used in doing work by the plants and the remaining goes towards growth and reproduction. On an average, 10% of the food (energy) is turned into body of herbivores. In the same way, 10% of total energy available to the herbivores is made available for the next level of consumers. On an average, 10% of the amount of organic matter that is present at each step reaches the next consumer level.
(4) Since, amount of available energy goes on decreasing at each trophic level, food chains usually consist of only 3 or 4 steps and rarely maximum of 5 steps.
(5) In an ecosystem, generally, the producers are maximum in number. As we move along the chain, the number of individuals at each trophic level decreases.
Ten Per Cent Law: It is also termed as second law of thermodynamics or law of entropy. According to this law, transfer of energy from one trophic level to other trophic level is never 100 per cent. It is so because most of energy gets lost as heat in the environment during each transfer. On an average, about 10% of energy is actually available to the next trophic level.
Energy Flow Diagram
(i) There is unidirectional flow of energy from sun to producers, and from producers to various levels of consumers. The energy captured by the producers does not revert back to solar input. Similarly, the energy which passes to herbivores does not come back to producers. As it moves progressively through various trophic levels, it is no longer available to the previous level.
(ii) Some harmful non-biodegradable chemicals (pesticides, e.g., D.D.T. and heavy metals such as mercury, arsenic, cadmium etc.) enter the bodies of organisms through the food chains and go on concentrating at each trophic level. This phenomenon is called biomagnification or biological magnification.
The phenomenon that involves progressive increase in concentration of harmful non-biodegradable chemicals at different trophic levels in a food chain is called biomagnification.
By the excessive use of fertilisers and pesticides in an agricultural field, water gets polluted. This is done to protect our crops from pests and diseases so as to increase their production. These excess harmful chemicals are either washed down into the soil or into the water bodies. From the soil, these harmful chemicals are absorbed by the plants along with water and minerals. Similarly, from water bodies , these are taken up by aquatic plants. In this way, they enter the food chain. Since these chemicals are non-biodegradable, these go on accumulating progressively at each trophic level. As we occupy the top level in any food chain, their concentration becomes maximum in our bodies. Therefore, affect us and other biotic components of the environment. As a result of biomagnification , varying amount of pesticide residues are present in our food.